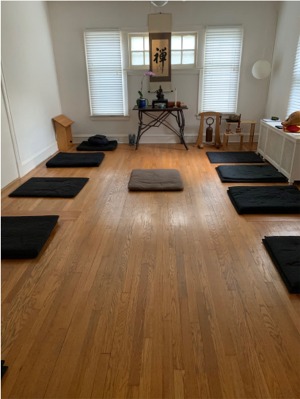 Practice
Weekly Schedule

We are currently operating in the virtual realm. If you are interested in participating,
contact us at pzc@prairiezen.org.
Monday through Friday: Sitting from 6:00 to 6:30 a.m.

Monday, Wednesday & Friday: Sitting from 5:15 to 5:45 PM

Thursday: Class 6:30 to 7:15 (not in session at this time)

Sunday:
Sanzen (private interview with teacher) available
9:00 a.m. Zazen/kinhin
9:30 a.m. Zazen instruction for newcomers
10:40 a.m. Service
11:00 a.m. Dharma talk

You are welcome to join Sunday sittings at the beginning of a sitting period. If you arrive during a sitting period, please wait until the end of the walking meditation period and enter the Zendo at that time. Zazen instruction for newcomers is available at 9:30 a.m. During sesshin, the regular schedule is suspended.