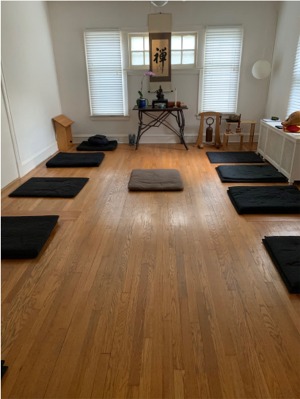 Practice
Weekly Schedule
Full COVID vaccination is required for attendance at PZC. Masks are optional.
PZC offers online participation via Zoom for the weekly schedule.
To connect to the practice sessions, request the Zoom links via email at
pzc@prairiezen.org
All times are Central
Monday through Friday: Sitting from 6:00 to 6:30 a.m.

Thursday: Sitting from 7:00 to 8:15 p.m. Sanzen (private interview with teacher) available

Sunday: Sanzen (private interview with teacher) available until service
9:00 a.m. Zazen (sitting meditation)
9:30 a.m. Kinhin (walking meditation)
9:40 a.m. Zazen
10:10 a.m. Kinhin
10:20 a.m. Zazen
10:50 a.m. Service
11:00 a.m. Dharma talk

Those attending via Zoom are welcome to join at any time. At PZC, if you arrive during a sitting period,
please wait until the end of the walking meditation period and enter the Zendo at that time.

An introduction to Zen practice is offered at PZC or via Zoom by request.
To schedule an appointment, email pzc@prairiezen.org

During sesshin, the regular schedule is suspended.